Machined Weft Curly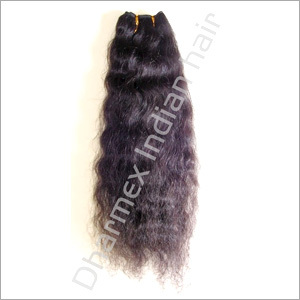 Machined Weft Curly
Product Description
We are one of the globally established organizations that are offering Machined Weft D Curly hair. Available in curly style and in different colors, these hair are widely used by our customers across the globe to get a perfect look. These are acclaimed by clients for their excellent strand strength, finish, natural shine and softness. We offer Machined Weft D Curly hair at affordable prices and timely deliver at our clients' end to assure their convenience.

Other details:

The hair is sewn together in a continuous strip at the root end of the hair shaft. Indian weft hair is used mainly to give a natural hair look to your head. Wefted hair comes in two types, machine wefted and hand tied. Weft (Weaving, Weaves) Remy (Remy, Virgin) Human Hair Extension Made of Indian Human Hair, Quick, Convenient Hair System etc.

Hair for wefting is choosen from health, young, stretchy Indian human hair luster, smooth, silky and soft. You just need to tie with your own hair then you will change the length and color of your hair quickly, beautiful and expeditious way of fashion.

100% Indian Remy Human Hair.
Style: Straight hair, Weave Hair, Curly hair, Deep Curly.
Length: 10" to 30" available.
Color: #01, #1B, #02, #04, #6, #08, #12, #14, #16, #18, #22, #24, #27, #29, #30, #31, #33, #35, #613 and also can be customized at buyer's request; etc.
Weight: Usually each pack 100gr and 113gr.
Package: Cardboard within plastic bag.
Minimum Order Quantity: 5Kg for each texture and each size.
Delivery: 7 to10 Business days after receiving the payment. Some products in stock can be sent within 24 hours.